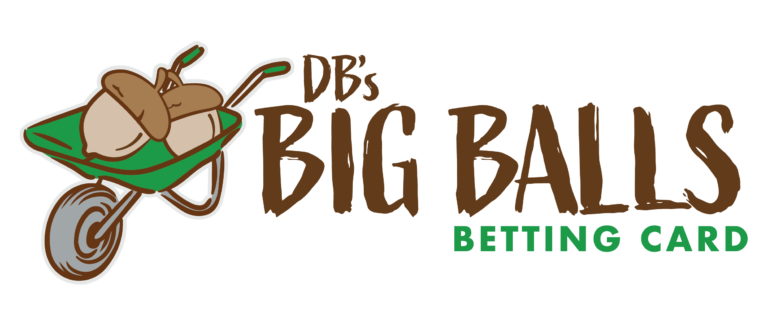 Outright Bets for The Sentry Tournament of Champions 2023
The Betting Approach for The Sentry Tournament of Champions 2023
The new year is here and Daddy's up 23 units on the new season as the PGA TOUR heads to Hawaii for the Sentry Tournament of Champions from Kapalua's Plantation Course. My excitement comes to a screeching hault there as I'm reminded of the fact that 10 of the last 11 winners at this event were at 25/1 or shorter...WHAT THE FRESH HELL GUYS! C'MON! That is a very sub optimal way trend for a guy who's betting card is strictly based on bombs at 25/1 or longer!
The sharpest sportsbooks show the implied odds over 47% for the top 5 names on the board this week. That's a huge implied odds total. A typical full field event would have the top 5 guys at somewhere like 10-20% max. What's even worse...that same book...it takes the 12th player on the board to get odds over 25/1 and the implied odds total for the first 11 players is over 77%!!!! I. AM. SCREWED.
Vegas has the winning score O/U at -28.5 and not the -34 record setting week we had last week. I'm thinking that's primarily due to more wind in this year's forecast than in 2022. We're hearing the fairways are a little faster than last year, but the greens are just as soft. It is a birdie fest, and that does tend to lead to greater variance and possibly a putting contest...however, with 39 of the best players in the world, it's likely the cream still rises to the top.
More Intel on Kapalua's Plantation Course
We're all quite familiar with Kapalua as it's been a staple on the PGA TOUR since 1999, but there is more intel to be had if you're so inclined.
We've got our 10+ year PGA TOUR caddie contributing every week in the Nut Hut , in John Rathouz. John will be in the Nut Hut weekly sharing insights on the courses, how they're playing and what he's hearing from ground zero that week.
If you're in the Nut Hut and you've not scrolled the #Caddie-Info channel this week...you're missing a TON of information. The chat tonight will cover everything from strategy in GPPs, cash games, betting, weather and tee time wave advantages, and of course picks & fades. If you'd like more detail on the weather and our thoughts, then check the Nut Hut and sign up for the Chalk Bomb email going out here in a few hours.
This is NOT Your Mama's Betting Article
I bet on golf for fun. You should too. Life is too short to bet favorites! Therefore, I don't get the betting erection I crave betting guys at 18/1 or 9/1. I realize that may be the sharper way to do things, but F that. I've felt the rush of having a big triple-digit winning golf bet hit...and Daddy likes!

Throughout the season, I'm going to show you my pre-tournament bets, including what I'm risking, odds, and some brief logic behind the pick. I'm actually betting on these guys. I'm taking $50 a week at $10 per unit to show you how I allot my dollars. Follow along, bet with me if you like, or completely fade everyone on this betting card. Up to you. I finished the 2019-2020 PGA Tour season up 10 units over 30 weeks, the 2020-2021 season up 41 units and the 2021-2022 season up 26 units strictly betting the long shot outrights (nothing shorter than 25/1).
Long Shot Outright Bets for The Sentry Tournament of Champions 2023
Up 23 units after hitting 2 winners in the Fall, I'm rather inclined to hold back some units this week given the trend of shorter winners.
With this being such a unique week to handicap given we truly don't know the status of a player's "form" nor can we really trust the short term stats given they're months old. I think we have to look at the body of work over the last year or so to determine a player's fit. Course history seems to be worth some level of value at Kapalua, but overall I think it favors who can be creative on the golf course. Of course length matters, hitting it close matters, and making putts matters here and everywhere.
I've just asked myself, who's a creative player with experience at Kapalua that can hit their irons close and make putts all 4 days to get to -30 and take down some of the biggest names in the world come Sunday evening. There just aren't many names longer than 50 or 60/1 I could even think about getting that done based on the history of the ToC.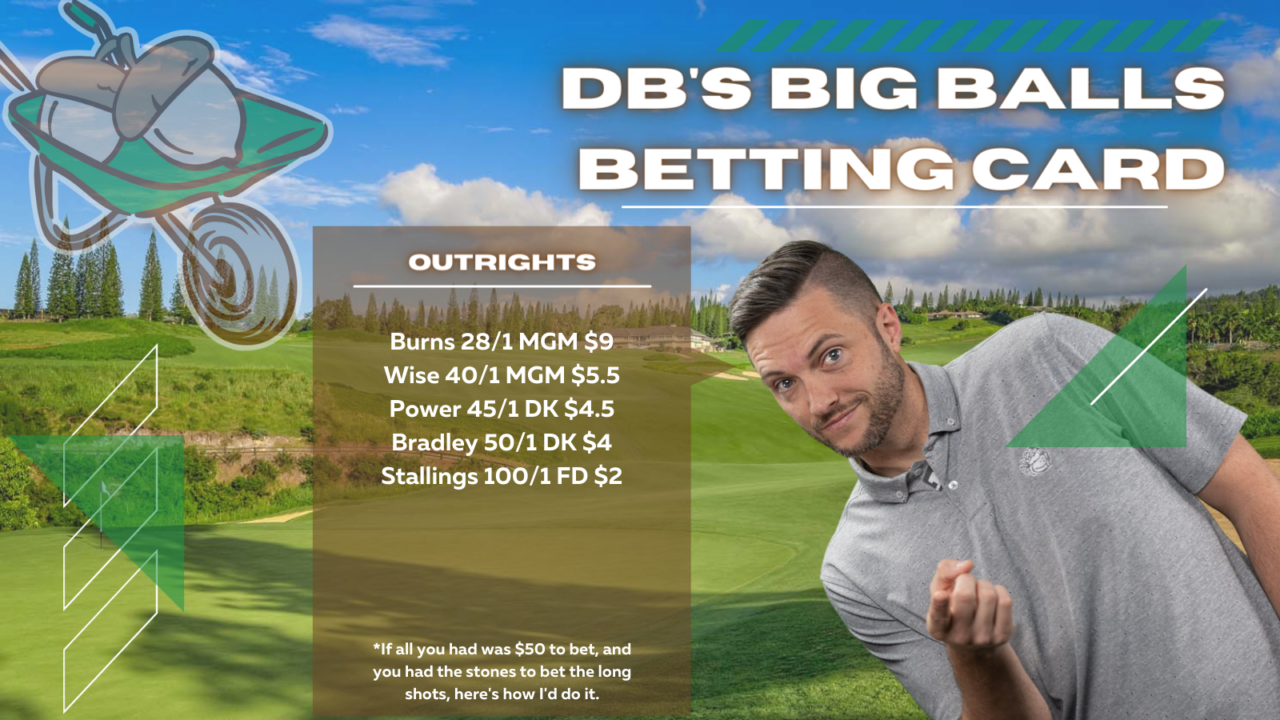 So if it looks like I didn't finish the card, that's not it. For the first time in my 3 years of writing this article, I'm not spending all 5 units or $50. I'm spending 2.5 units or $25 to win between 20 and 23 units or $200 to $230. It's just not smart to throw a bunch of bombs out there in this field. These are my favorites over the 25/1 number. They're long off the tee, can make birdies in bunches, and they're all top notch iron players.
I'll be back to full send on all units next week when we have a full field event and the top 5 guys on the board don't have 50% implied odds to win. Let's be ballsy...but let's be responsible with our balls and know when to let em hang just a little...Good Luck!
Alright, off to write the Chalk Bomb! Have a great week and #BendOverYourBookie!