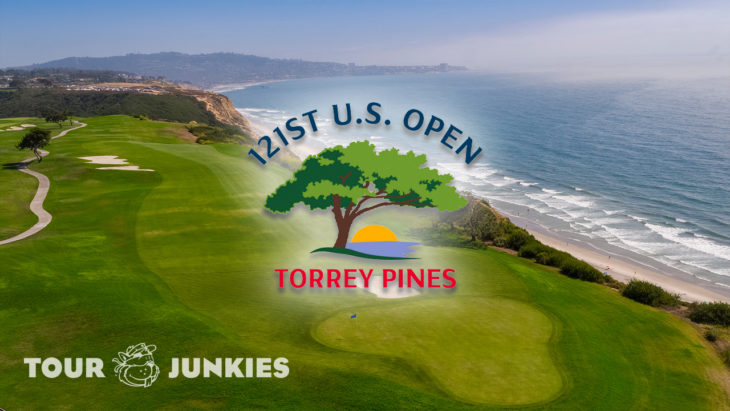 DraftKings Picks for The US Open 2021
Welcome to Major SZN! The best golfers on the planet have landed on the west coast as Torrey Pines is set to host the 2021 US Open. Millions of dollars are up for grabs and new millionaires will be made. Let's get you set to see some green screens on DraftKings this weekend.
What's up golf addicts! AC here, checking in week to week to provide a quick preview of the upcoming PGA Tour event. I'll give you the lowdown on the course, the players, some key stats, and our favorite DraftKings picks for the week. 

The pod came out live and late on Saturday night with the tequila and vodka bottles emptied. It's an exciting week for the Tour Junkies fam and the buzz is already kicking off in the Nut Hut.  Shit changes, feelings differ, ownership plays a big part, and come the live show Wednesday night, things that looked good early in the week might not look so good anymore. That's why you need to get in the Nut Hut. Millions and millions have been won by the Nuts and we may get our second milli-maker winner this week!
As expected, we got a monster field this week with almost all of the top 60 in the OWGR seeking a major championship. Most recent US Open champions in the field include Bryson DeChambeau (WInged Foot - 2020), Gary Woodland (Pebble Beach - 2019), Brooks Koepka (Shinnecock Hills - 2018/ Erin Hills - 2017), Dustin Johnson (Oakmont CC - 2016), and Jordan Spieth (Chambers Bay - 2015). The field has been set at 156 player with just the low 60 and ties making the cut
Torrey Pines South Course Breakdown
A staple on the PGA Tour in the form of the Farmers Insurance Open, Torrey Pines is a regular early season stop though played a bit differently with the field splitting the first two rounds between a much easier North Course and then three rounds on the South Course. Well this week, the USGA's focus will have been directed to just the South Course where Torrey Pines will host its second major. Torrey Pines also hosted the 2008 US Open where Tiger Woods famously won while playing with a broken leg.
Torrey Pines South Course will play as a 7,650 yard, par 71 this week with many options to extend the course even longer if needed. After Bryson dismantled the USGA's setup at Winged Foot in 2020, it seems they do not want a repeat and anyone missing the fairway this week will suffer the consequences. Some thick ass Kikuyu grass up to 5 inches will line the fairways with some much lovelier Kikuyu grass in the fairways. The relatively small putting surfaces feature Poa annua with the main defense of the course being coastal winds and 82 bunkers. Breaking down the course; seven of the 18 holes will play as 450-500 yard par 4s. All three par 5s play over 560 yards with two of them reaching 600+. The four par 3s range from 173-223 yards.
The boys had 20-year PGA Tour caddie and looper for Webb Simpson, Paul Tesori, on the show to get his take on Torrey Pines. You have to watch the show to get the lowdown but I'll give you a couple bits. Paul is looking at wedge players and great chippers with a solid flatstick. He thinks the course is going to play long but much firmer and warmer than what the boys see in January.
When it comes to course history, DB and I share similar sentiments. We are not leaning towards any course history but Pat, usually a big course history lover, is dialing his feelings back just a bit but will still carry some weight. DB also offered up a trend from 2008 where the top 10 in the US Open did not have a great record at Torrey Pines. We are all in agreement with strokes gained approach, ball striking, and around the green being key stats this week. Driving accuracy and driving distance will be super important with the length of the course and the rough. Fantasy National's good drives gained will be helpful there. Putting on Poa will be a huge asset and finally, bogey avoidance.
If you are not yet a member, join the Tour Junkies crew and some brilliant minds in Goalby's Nut Hut. The Nut Hut is a discord chat with tons of insight, caddie news, banter, trash talk and most of all a collection of golf addicts that have won more than $3 million since the restart. Click the banner below to sign up!
Each week I will give you my plays and a fade from each DraftKings salary range.
$9k+: 
DB: Play - Patrick Cantlay | Fade - Jordan Spieth
Pat: Play - Collin Morikawa | Fade - Justin Thomas
AC: Play - Jon Rahm, Brooks Koepka, Xander Schauffele | Fade - Jordan Spieth
Rahm is covid-free, cleared to play, and guaranteed to be geared up for Torrey Pines. Rahm absolutely has the game to take down a US Open and after being denied a win at the Memorial last week, I would not want to be in his way this week. It won't come as a surprise to anyone that my boy BK made this list. This is all he cares about on the golf course and leads the field in strokes gained in the US Open by a long margin. Xander is right up there with BK in US Open performances and any major for that matter. In the last four years, X has not finished worse than T6. As the second highest priced player this week, I'm going to jump off the Spieth train. Jordo has been playing amazing golf but I really don't think this setup will return the value.
$8k:
DB: Play - Tony Finau | Fade - Cam Smith
Pat: Play - Louis Oosthuzien | Fade - Tony Finau
AC: Play - Will Zalatoris, Corey Conners | Fade - Webb Simpson
The $8k range is absolutely stacked this week in my opinion. We may see a couple lineups built within this range take down some major prizes. I wrote down Willy Z and Conners because they have been two of the best players in golf in 2021 and both have the game, length, and most importantly, accuracy, to take this down. The worry, like usual, for both really is the short game. But honestly, Tony Finau will be a One and Done pick for me. I slotted him in here at the beginning of the year when I claimed he would win twice. Louis Oosthuzien is another guy that makes his presence known in majors so I am definitely with DB and Pat here. The fade for me is going to be Webb. We had his caddie on the show this week but I just don't see it. Webb is an awesome golfer but he has battled some issues this year including a bad neck and was out of commission with the flu last week.
$7k:
DB: Play - Jason Kokrak | Fade - Sergio Garcia
Pat: Play - Paul Casey | Fade - Matt Fitzpatrick
AC: Play - Abraham Ancer, Jason Kokrak, Charley Hoffman | Fade - Matt Kuchar
Ancer has been incredible in 2021 with some scorching irons, accuracy off the tee, and a dependable flatstick. Poa is also a great surface for him. Kokrak is much the same and shocker, Hoffman as well. As Ancer leads the field in strokes gained total over the last six weeks, Kokrak and Hoffman are both in the top 14. Kokrak brings in top ranked par 5 scoring along with top 10 in opportunities gained. Hoffman brings in accuracy off the tee, elite approach stats and though it may not come down to it, is number one in DK scoring through the last three months. Since DB chose Garcia as his fade I'll go with Kuchar and you better believe the Kuch/Garcia miss the cut parlay is in play this week. 
$6k: 
DB: Play - Bernd Weisberger, Wyndham Clark, Bo Hoag
Pat: Play - KH Lee, Guido Migliozzi, Grayson Sigg
AC: Play - Wilco Nienaber, Brendan Steele, Taylor Pendrith
Give me a young, big swinging South African with Kikuyu experience and made his first start on the PGA Tour last week with a T14. Steele has definitely been a regular for me this year and if DK wants to shove him down in the $6k range I'll have some interest. The Torrey history is good, the putter is good, and ranks out really well in the 450-500 yard par 4s. Pendrith! Canadian! TP being on the PGA Tour is only a formality now after two really solid years on the Korn Ferry Tour. The man bombs it!
THE INS & OUTS
The field is set at 156 with a T60 cut line.