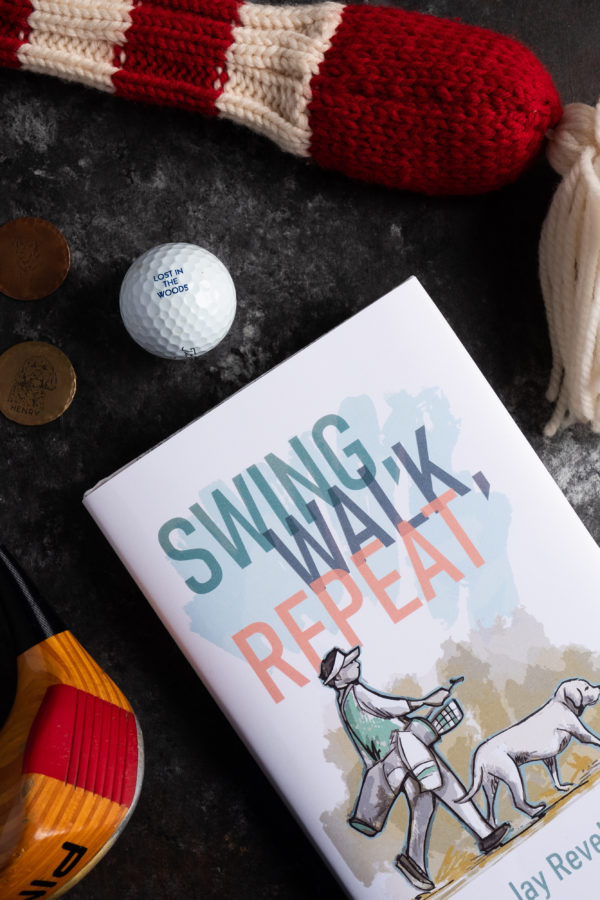 Catching up with Jay Revell, the author of Swing, Walk, Repeat!
Talking Golf with Jay Revell and his newest book!
This past Saturday morning, I found myself on my back patio talking on the phone with Jay Revell, author of Swing, Walk, Repeat. The warm springtime air and colorful azaleas in my backyard set the stage for a great morning. Jay and I spoke at length about certain topics in his newest golf literature. We discussed spirituality, the importance of walking, and "special magic." A term Jay uses to describe deep connections across our lives and golf. As you can imagine, I left the conversation with a deeper appreciation for the relationships I have made through the game. Reading Jay's daily golf devotional, Swing, Walk, Repeat, will allow you to do the same!
Golf and Spirituality in Swing, Walk, Repeat!
Throughout his novel, the themes of God and spirituality weave in and out of Jay's relationship with golf. Full disclosure, I have a theological background from the University of the South so this approach to the sport struck a chord in my core. Jay writes, "Golf is a soulful game. It gives us the chance to find serenity in a world where that can often seem out of reach…Surely God's grace plays a part in that." In particular, the emphasis on reach grabs my attention. A delightful walk on a golf course leads me to believe God exists much closer than most of us imagine. Play the nine-hole course atop the mountain at Sewanee or Sweeten's Cove and you will understand where I come from. The peace of the golf course creates space for self-reflection. More often than not conversations with ourselves and the higher powers we believe in, transpire during those moments of meditation. 
Jay Revell's Emphasis on Walking in Swing, Walk, Repeat!
As we continued our conversation about the game, the importance of walking, captured much of our time. Don't get me wrong, riding in a cart with cold beers and music playing can be incredibly fun. However, golf begins to transform our lives while we walk. Walking triggers exploration within yourself and those you share the game with. Swing, Walk, Repeat intentionally digs into the beauty of walking the course. Jay writes, "Along the walk during the in-between times, it's this sort of companionship that yields a therapeutic benefit from golf." For example, Jay delves into spending time on the course with his friends as they all began having kids. Stories and laughter about their children became commonplace jargon as they moved from tee to green. In order for those stories to resonate, the pace and stride of the group must complement the time it takes to share intimate anecdotes with friends of old.
The Special Magic of Golf According to Jay Revell!
Without a doubt, the most meaningful part of our talk centered around this idea of "special magic." First, Jay dove into the importance of place and the intrinsic connections people have with certain settings. His stories communicate his drive to better the place he calls home. Specifically, the city of Tallahassee and Capital City Country Club act as these laboratories of learning for Jay and his family to grow closer together as they play. Second, he spoke about sharing these spaces with the ones we love. In Swing, Walk, Repeat, Jay professes "My most special moments on the golf course are when I'm with my wife and daughter…making memories that will forever fill me with joy." Reading these words lead me to reflect on my local track, Forest Hills Golf Club in Augusta. What is it about your home course and those you play with that continues to create magic?
Why You Should Read Swing, Walk, Repeat!
As our conversation drew to an end, Jay summed up our time together quite well. He said, "We've been on the phone for an hour talking like old pals, that's the power of golf!"  As you read Swing, Walk, Repeat, Jay will inspire you to explore your feelings through each chapter! (Click here to purchase your copy) He encouraged me to love the game for reasons that make me happy. His writing carries that effect. Lastly, I ended our interview with one simple question, "why?" Why feel compelled to produce this golf devotional? Without a hint in his voice, Jay said "keep swinging, keep going…you're going to fall in love with golf and learn more about yourself along the way." Cheers!
As a freelance writer, Taylor McCutcheon will focus on golf adjacent, cultural content in the world of golf. Welcome Taylor to the team and help spread the word by sharing his content.
***Taylor's opinions and commentary are his own and do not necessarily represent the Tour Junkies as a whole.