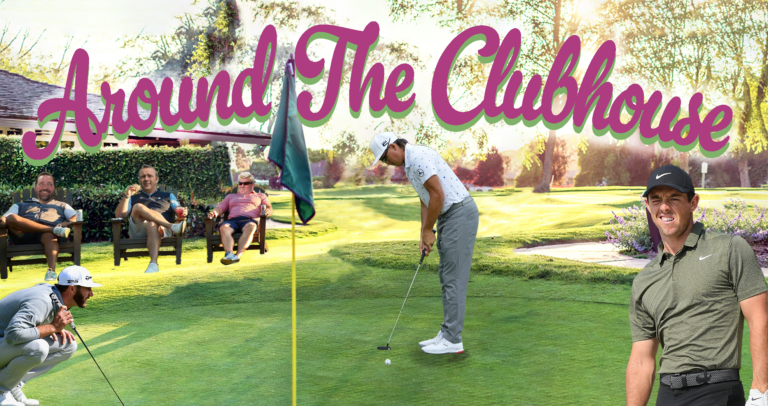 Welcome to your place for all the light-hearted golf content you need.  We will be going around the clubhouse, reacting to many of the viral golf moments of the past week.  From pro golf to your horrific swing, if it makes you laugh, then it may show up.  This week we look into some angry moments at the 2023 PGA Championship at Oak Hill as well as a few hilarious ones. Stay tuned for this week's player to watch.  Grab your beer, and let's get into it.
Could Tom Kim be any more likable?  This disastrous yet hilarious moment took over social media Thursday.
We see dudes go into the water sometimes, as our own Pat did last week, but seeing someone appear out of a muddy sinkhole is a new one.  Tom hid behind the hill to take his shot and then out of nowhere came back into view, looking like he had just fallen into the chocolate fountain.
Tom's reaction is golden!  The announcers, his caddie, and Kim himself couldn't keep a straight face, which made it all so much funnier.  His reaction to going viral was amazing,  The South Korean is seen laughing about it all, which just shows his character.  I love a dude that can laugh at himself.
He mentioned he thought about bathing in the pond before his next shot, which is just about the only thing that could have made this more spectacular.  Live love Tom Kim.
Check out more Tour Junkies Content
Pga Championship angry moments
Thomas Pieters Rough Shot
We all heard the entire week about how brutal the rough is at Oak Hill and that is on display here.  You can't even see the ball with it sunken down into the soaked rough.
Now this is a moment that happens 3-4 times a round for me and us bogey golfers and it gives me second hand embarrassment to watch.  Credit to Thomas for not getting angry and just taking it on the chin.
I am no tour player or caddie, but hitting 3 wood out of the thicccckest rough on tour wouldn't have been my first option.  That is absolutely a "it was prolly a 12, but put me down for a 7", moment like a comment said.
Sheeeesh someone woke up on the wrong side of the bed.  Tayor Moore was not pleased with his drive and displayed his anger with not one, but two club throws.
Drunk with a few friends on 16, I get it, but at the PGA Championship that is ballsy.  Moore made the cut but had a rough Saturday, as shown in this moment of rage.  Someone give Taylor a hug, he has had a solid year so far and needs to be told that.  Take a breath my guy cause I don't think Gronk spiking your driver with hundreds of fans 20 ft away will sit well with the PGA.  It's one thing to hit a fan with a ball, but a driver tomahawked to the head would be quite the lawsuit!
PGA Championship Hot Mics
The hot mics this week at Oak Hill were next level.  I'm not sure whether players were just more angry at the PGA Championship or if the microphones were just placed much closer to the players... either way I'm all for it!
Rory had an up-and-down week at Oak Hill and he was caught using some bad words after a wayward tee shot.  Although Rory is not someone I would think about getting super angry, I love these moments that make PGA golfers seem the slightest bit like us.
This makes me think about what if there was an unfiltered broadcast filled with moments like these.  Announcers that swear and say whatever is on their mind.  The PGA would never agree to that, but that would be so entertaining.
Another angry moment from good ole Jordan Spieth.  I'm telling you the number of these moments this week was outrageous.  Some players and people complain when the courses are this tough and scoring is hard, but it is a fun change of pace.
Seeing the golfers go through adversity and lose their minds is fun.  Especially when an f bomb or two or seven is thrown into a broadcast!
This tweet sums it up perfectly!  Couldn't have said it any better.  Some people on social media are haters, but I think it is quite the look.
I could totally see JT, Spieth, and his boys in a frat, drinking and just hanging with a bunch of college dudes.  They are all wearing their rally caps after some brutal starts to the rounds.
There are some bad parts of social media, but this is one of its beauties.  Top 5 golf tweet of the year.
Name 5 members or get out!
-JT probably
Young Golfer to Root for This Week
This week's player to watch is a University of Texas golf alumni, looking to follow in the footsteps of Jordan Spieth and Scottie Scheffler.  Cole Hammer is only 23 years old and has played in just 9 PGA tour events in his career.  He has qualified for this week's Charles Schwab Challenge after being announced as a Colonial Champion.  This is an honor given to two young golfers that have never played the tournament in the past.
His latest appearance was a T64 at the Valero Texas Open.  Hammer is on the Korn Ferry Tour and currently sits 18th after 3 rounds at the event currently going on.  He has 2 other top-25s in his last 5 events.
Hammer has had a fantastic career as a young amateur and is looking to keep impressing to secure a tour card in the near future.  Also if that is his yard, sheesh.  That is a dream right there.
Jack Latterman
Jack is a Sports Journalism student at Michigan State. Jack's a massive sports fan, but specifically obsessed with all things golf. Hailing from Chicago, Jack loves playing golf when the weather permits, but weekly enjoys the Friday cut sweat to kick off his weekend.
Disclaimer: The views, opinions, and commentary in this post belong to its author and do not necessarily represent the Tour Junkies as a whole.