PointsBet came on the scene in the great ol' US of A in January of 2019 and currently operates in New Jersey, Illinois, Indiana, Iowa, Colorado and soon to be Tennessee. 
There are a lot of things to like about what PointsBet has to offer outside of it's golf offerings, but we'll get to those later in the write up. The ability to gamble on golf through PointsBet offers a ton of fun, upside and something unique you're not going to find with any other sportsbook in the US. Of course, PointsBet offers all the traditional golf bets we're accustomed to like: outright winner, top 10, top 20, first round leader, props, head to head matchups, group betting and more. However, the spread betting offerings at PointsBet are what truly sets them apart.
Spread betting pays out on how right you are or how wrong you are on a given line. There's a tremendous opportunity for a big hit with upside as well as the chance to take an absolute bath if you're way off in your prediction of how a golfer may finish. Essentially, the more right you are...the more you win (and vice versa). We love that it keeps the bet variable until the very end of the tournament since you can be more right or more wrong as a player moves up and down the leaderboard until the tournament is finished. 
If you're about to stop reading this because you're way too risk averse, then have no fear. PointsBet does offer you the ability to place stop losses prior to completing your bet so you limit how much you can lose (as well as how much you could win). But don't be a WAP. Let it ride!
Our Favorite Golf Bet on PointsBet
Our favorite Pointsbetting game for golf is betting on "Finish Position." This is simply a bet on where the golfer will finish at the conclusion of a given tournament. The oddsmakers at PointsBet will set an under line and an over line (typically the over line is 3 to 5 places higher with the middle basically acting as "juice"). You decide if you think the golfer will finish better than the low number or worse than the high number. Set your wager amount. Then, get ready to sweat it out until the bitter end as your wager amount is multiplied by how many places you are from the line chosen. Let's look at this example from the 2020 CJ Cup on the PGA Tour.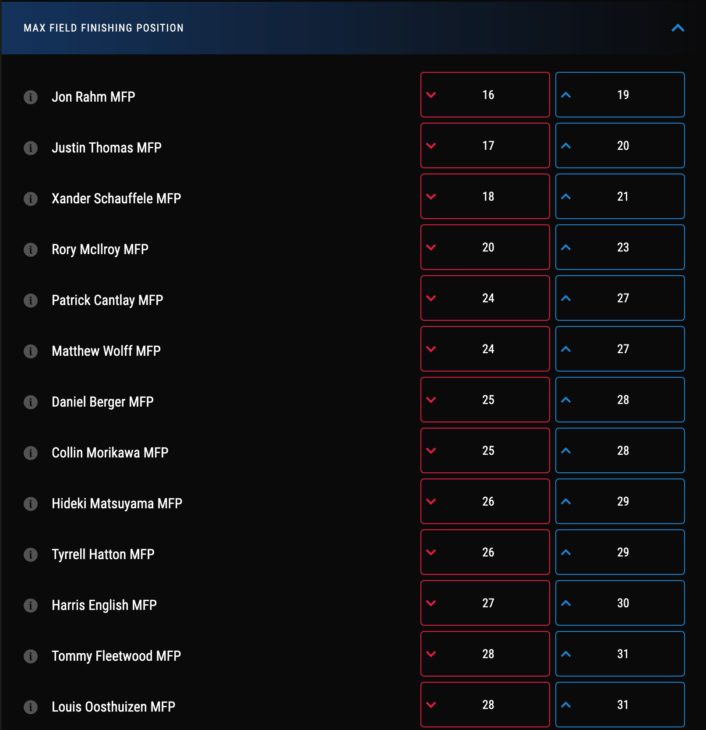 Jon Rahm had an under number of 16 and an over number of 19. Let's say you took the under on 16th place and bet $10. If Rahm finished 3rd at the conclusion of the tournament, that's 13 spots better than 16, so you'd win $130 (13 x $10). However, if Rahm finished 40th, you'd lose $240 (24 x $10). It's pretty easy to see how this could be a really fun sweat as Rahm's position on the leaderboard is changing constantly, not just by his own play, but by the play of those around him on the board.
In terms of our strategy thoughts playing the Finish Position game at PointsBet, we're still thinking through and learning as we go since this is new to the US. But, our early thoughts would be to avoid the middle of the board as the upside isn't likely to be there. Focus on the top 20 and bottom 20 numbers on the board, and only fire if you believe their line is 5 places off or more given your evaluation of the player.
Obviously, you still need to go through your process of evaluating the field in terms of course fit, stats, recent form, long term form, course history, etc. We've also been taking a look at other sportsbooks numbers on a given player to top 10 or top 20 to see if there are big discrepancies between where PointsBet may have them. Generally, high upside guys with decent low numbers on Finish Position and super low floor guys with good numbers for the over are intriguing. We all know players on the PGA Tour known for the self destruct, total eject during a golf tournament that sends them spiralling to the bottom of the leaderboard. There are also known players that struggle during tournaments where you've got to grind your way and avoid big numbers.
We really feel like PointsBet is a sportsbook that values golf bettors and gives plenty to offer in terms of unique and traditional betting opportunities. They've got a killer iOS and Android (yuck...what are you doing) app on offer, and the desktop experience is rather clean. They've also made a good name for themselves by living by their "Bettors First" mantra with "Good Karma Payouts" and "Early Payouts". Unlike a few sportsbooks we've worked with in the past, the team at PointsBet truly seem reasonable in their dealings with bettors. This of course, is a major benefit to legalized, regulated gambling here in the US as these sportsbooks need to maintain an above board reputation.