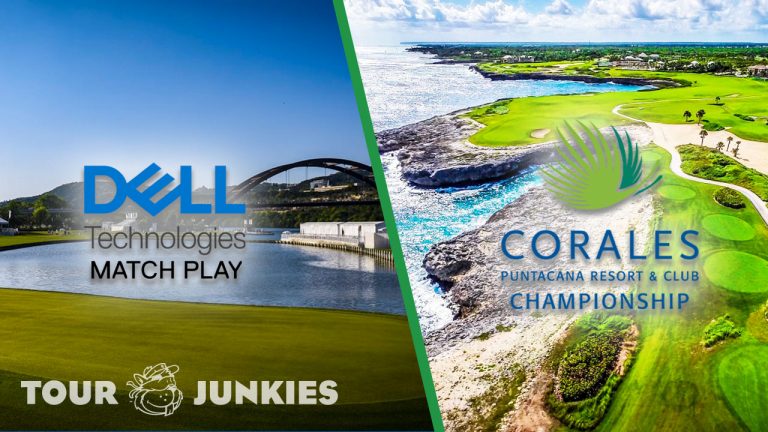 WGC Match play 2022 DraftKings Preview
March madness week for golf's elite; Corales hosts outsiders
It's WGC SZN as the best players in the game head to Austin for the World Golf Championships (WGC) - Dell Technologies Match Play. Players will go mano a mano for five straight days, kicking off on Wednesday. Meanwhile, the players outside of the top 64 will head to Puntacana for the Corales Championship. Let's get you set to see some green screens on DraftKings this weekend. 
What's up golf addicts! AC here, checking in week to week to provide a quick preview of the upcoming PGA Tour event. I'll give you the lowdown on the course, the players, some key stats, and our favorite DraftKings picks for the week. 
'Bermuda' Sam Burns struck again! A year removed from his first PGA Tour victory, Burns returned to Copperhead and tamed the snake once more. That's back-to-back Valspar Championships for Burns who now slides into the top 10 of the world golf rankings. A solid week once again for the TJ fam.
All of the course data, player stats, and most of the information below can be found on Fantasy National Golf Club (FNGC). At FNGC you can view historic course conditions, course scoring breakdowns, tournament history, simulators, and official strokes gained data provided by the PGA Tour. Start building your models at Fantasy National now!
The Field and Tournament Details for WGC Match Play
It's Match Play week! Golf's edition of a heads-up championship. Players are divided into 16 four-man pods with a round-robin style first round. A single-player emerges out of each pod where they are squared up against the rest of the sweet 16. Single elimination follows until there is a WGC Match Play champion. Brackets are typically released Monday evening. The event starts on Wednesday and runs through Sunday.
Appropriately so for a WGC event, quite the field is teeing it up in Austin. There are 64 of the top 69 players in the world currently committed including each of the top five. Omissions as of Sunday night include PLAYERS champion, Cam Smith, Rory McIlroy, Hideki Matsuyama, Harris English, and of course Phil Mickelson.
Apparently, Byron DeChambeau is playing. Bryson got waxed in the first round last year. World #1, Jon Rahm, will hope to maintain that honor as the title will be up for grabs once again. Collin Morikawa, Viktor Hovland, Patrick Cantlay, and Scottie Scheffler round out the top five. The 2021 WGC Match Play champion, Billy Horschel, who defeated Scheffler in the final, is looking to go back-to-back. Horschel is ranked 16th in the world which will put him in the final pod when the top 16 are separated.
This event has yielded many different winners. Bombers have won. Short knockers have won. Before Billy Ho, Kevin Kisner (2019), Bubba Watson (2018), Dustin Johnson (2017), Jason Day (2016), and McIlroy (2015) all bested the field at Austin Country Club.
Do yourself a huge favor and don't pick guys from the same pods. Ideally, you want six of the final eight players. Way too many people will overlook this.
Corales puntacana championship breakdown
Golf fans get another double dose this week. WGC SZN generally means oppo power as well. While the top 69 or so head to Austin, the next 120 in line will tee it up in the Dominican Republic. The Corales Puntacana Resort & Club Championship takes place on the Corales Golf Course in Punta Cana. At almost 7,700 yards, the Par 72 is one the longest on Tour.
Corales GC sits on the coast and feels the wrath of the ocean breeze. It's a Tom Fazio design that features Paspalum greens. Generally only found in Mexico and Caribbean stops. Lots of former champs in the field including 2021 champion, Joel Dahmen. Hudson Swafford, Graeme McDowell, and Brice Garnet. Dominic Bozzelli and Nate Lashley, who won the Korn Ferry Tour event at Corales GC, are also in the field.
Last week's runner-up at the Valspar, Davis Riley (WD), Kramer Hickok, Chad Ramey, Greyson Sigg, Stefan Jaeger, Wesley Bryan, Doc Redmond, and Max McGreevy are a few that have my attention before pricing is out. Sponsor exemptions include Victor Perez, Rafa Cabrera Bello, and Hatong Li. We will also see Rasmus and Nicolai Hojgaard play together on the PGA Tour for the first time.
Form and history are important but being a good ball striker leads to success. Gotta score on the Par 5s. Guys who fare the best in windy conditions will use it to their advantage.  We will get into more throughout the week in the Nut Hut.
WGC Match play Course Breakdown
Course: Austin Country Club
Location: Austin, TX USA
Yardage: 7,108
Par: 71
Architect: Pete Dye
Grass: Bermudagrass overseeded with Poa
Comp Courses: Innisbrook (Copperhead), TPC Sawgrass, TPC Scottsdale, Harbour Town GL, TPC San Antonio
Another Pete Dye track on deck. Players will have to be strategic with the course and with their matches this week. This course is a 'tale of two sides' type of setup. The front nine is a hilly, tree-lined country-side area. However, back nine is a flat chiseled-out patch along the coast of Lake Austin. You'll dodge trees on the front and water on the back.
This 7,100 yard Par 71 is a typical Pete Dye design. Up and down, side by side, weaving through doglegs and trouble. The greens will be firm, fast, and quite similar to what we have seen the last few weeks. Bermudagrass, overseeded with Poa. Smaller than average. Slopey. Lots of runoff if left a bit short. A shit ton of bunkers defend this course. Approximately 110. There's weather, wind, and water in play.
Right now, the weather looks pretty ideal for the week. Leading up to play and throughout the day on Wednesday, it could be gusty. The rest of the week looks nice. Sunday may bring some more intense breezes back. More to come on that.
Key Stats for WGC Match Play
Strokes Gained: Putting
Strokes Gained: Approach
Opportunities Gained
Scrambling
Recent Form
Pete Dye History
Match Play Experience
It will be another Approach and Putting week. Though there are driveable holes, precision off the tee is more key. Your second shots have to be good enough to hold the greens. The closer you are, the better which is why I like Opps Gained so much. Putting and Scrambling become even more important when you are getting up and down to half a hole.
I'll lean on Recent Form a lot for an event like this.  Who's dialed, who's feeling it lately, and who's motivated? From there, it's Dye history. Certain guys excel on these types of tracks while others detest them. Most guys can overcome the hate for a course when an event like this rolls around, some can't. Dye track correlation is definitely a thing.
Lastly, Match Play history. Not only the WGC event but also the Ryder Cup and Presidents Cup. Head to head is a different animal. Here's a quote from Rahm last year, "A lot what you do is dependant on what the person in front of you is doing, and you don't necessarily need to be playing your best golf every single day, you just need to be better than the person in front of you."
Here's a tidbit from our Nut Hut in-house caddie: "Updated on Tuesday"
If you are not yet a member, join the Tour Junkies crew and some brilliant minds in Goalby's Nut Hut. The Nut Hut is a discord chat with tons of insight, caddie news, banter, trash talk, and most of all a collection of golf addicts that have won more than $4 million since the restart. Click the banner below to sign up!
WGC Match play Picks & Fades
Each week we will give you some plays and a fade from each DraftKings salary range. For all of DB and Pat's thoughts and picks make sure to check out and subscribe to the Tour Junkies Podcast.
**Picks will be updated Monday night after the bracket is released**
To Play or Not to Play Brooks Koepka
Brooks is in the field. BK got bumped up to the 16th seed, giving him an easier path to victory. He's got lots of match play experience and went 3-0 in the group stage his last time healthy in this event. 10-7-2 between Ryder Cup, President's Cup, and WGC Match Play. He also dominates Pete Dye designs.
$9K & Above 
DB: Play - Dustin Johnson | Fade - Collin Morikawa

Pat: Play - Patrick Cantlay | Fade - Collin Morikawa

AC: Play - Scottie Scheffler, Daniel Berger, Xander Schauffele | Fade - Bryson DeChambeau
Scheffler almost did it for us last year and has since picked up his first two PGA Tour victories. He's got a tough group but he's the top talent, local, and the hottest player on the planet right now. Berger hasn't had a great history here but has been playing some great golf and generally performs well on Dye tracks. He does have a Ryder Cup singles victory since last year. I think Xander has one of the easiest groups and a potential easy path to the final. Xander likes to show up at weird events. He's got a 5-3-3 professional math play record.
We'll see how injured Bryson was or is. We haven't seen him since The Farmers and I think Gooch is gonna mop that group.
$8K Range
DB: Play - Sergio Garcia | Fade - Will Zalatoris

Pat: Play - Jordan Spieth | Fade - Pat was distracted by the chat
AC: Play - No One | Fade - Everyone
I built my bracket a few times. Not a single one of these guys made it out for me. I'm most confident in Billy Ho but think Hoge gets through.
$7K Range
DB: Play - Talor Gooch | Fade - Webb Simpson

Pat: Play - Russell Henley | Fade -
AC: Play - Russell Henley, Alex Noren, Talor Gooch, Kevin Kisner, Brian Harman, Keith Mitchell
It's clear I have some love for this range. Each guy on the list has a legit shot at winning their group. Henley's approach game is the best in the field over the last three months and the rest of his game isn't lacking. Pat had some good things to say about Russ on the pod. Worth a listen. I don't think anyone is shocked to see Noren here. I've got a permanent pass on the Swede's train. He's got one of the best records in this event and is 13-6 overall. Playing awesome golf right now.
Kisner's a former champ and one of the best match-play gamers in golf. 16-6-2 professionally and excels on Dye designs. Harman is feeling it and has the history to easily get out of his group. 5-3-2 in the WGC Match Play and another guy well suited for these courses. Finally, Killa Keith Mitchell. This will only be Mitchell's second start here but the form coming in is promising. He's got the game to give his group a run and does his best work on these putting surfaces.
$6K Range
DB: Play - Tom Hoge, Mav McNealy

Pat: Play - Ian Poulter, Tom Hoge
AC: Play - Keegan Bradley, Tom Hoge
Bradley and Hoge are my two favorites down here. Keegan will have more of a fight than I think Tom will but the way they have both been playing bodes well for the battle. Keegan has yet to win a match in two tries but his group is soft. This will be a brand new experience for Hoge as he is reaping the rewards of his recent uprising.
There ya go. Fun week. Don't overlook Corales. There is an edge to be had if you put in the time. Watch ownership for the Match Play. So many pivots to be found. Don't trip yourself up. Stay away from picking guys who will face each other in the Round of 16. Build your bracket and find the six that will make the quarters.
THE INS & OUTS
*The field is 64